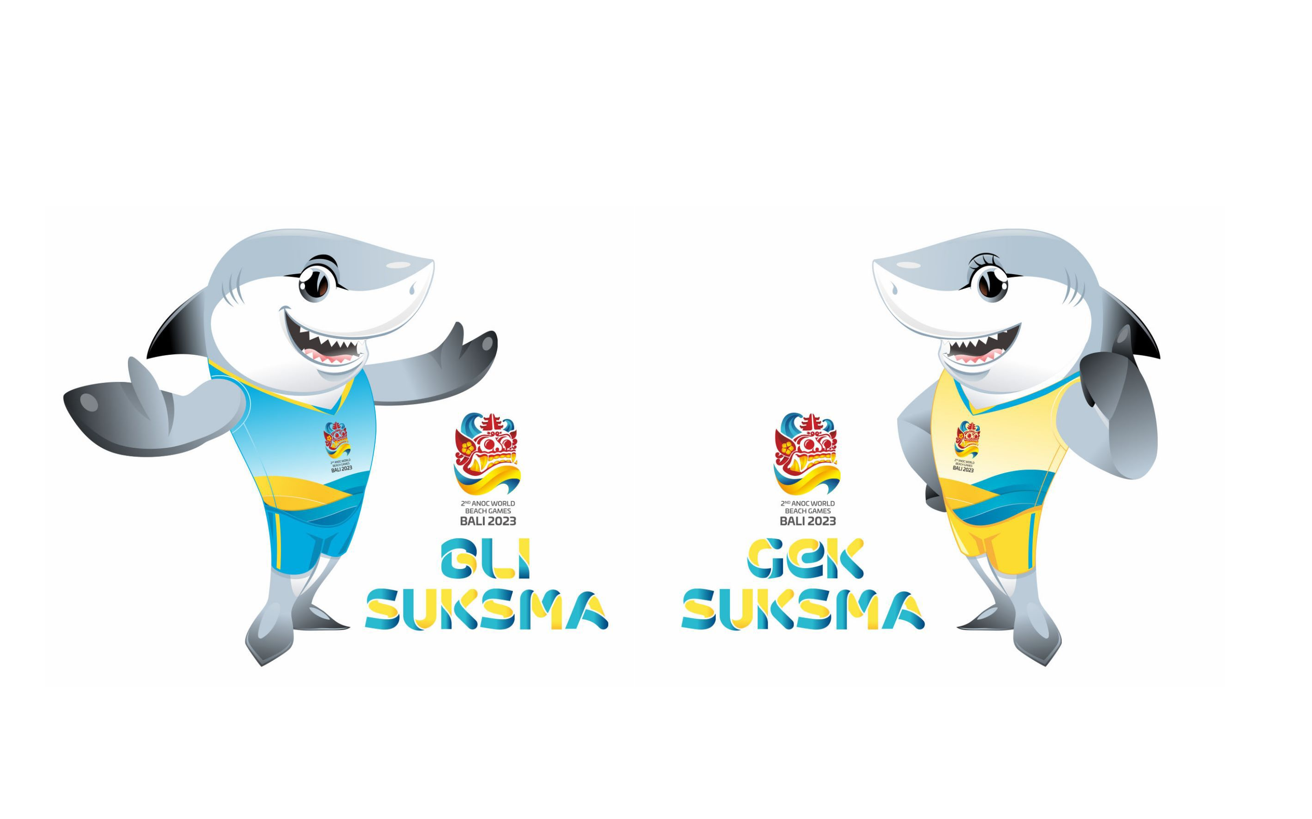 ANOC World Beach Games Bali 2023 reveals Bli and Gek Suksma Games mascots
The ANOC World Beach Games Bali 2023 Organising Committee today introduced Bli Suksma and Gek Suksma, its friendly and welcoming blackfin shark mascots for the Games.
The mascots were unveiled by President of the Indonesian Olympic Committee Raja Sapta Oktohari during the Chef de Mission seminar in Bali in front of more than 100 NOCs attending in-person and online.
The selection of Bli Suksma (male) and Gek Suksma (female) as the Games mascots is symbolic of the important role that marine life plays in Bali's culture and heritage and the Games' commitment to sustainability. The blacktip sharks are known to be friendly and curious creatures that are deeply respected by the Balinese people.
The mascots are named after the nicknames commonly used in Balinese to refer to brothers (Bli) and sisters (Gek). Meanwhile, Suksma is a term of gratitude in Balinese. They intend to represent the genuine spirit of hospitality highlighted in Balinese culture.
President of the Indonesian Olympic Committee Raja Sapta Oktohari said:
"We are delighted to introduce 'Bli Suksma' and 'Gek Suksma' as the official mascots for the ANOC World Beach Games Bali 2023. Bli Suksma and Gek Suksma will welcome all participants to Bali in August and represent the fun and joy of the Games.
"The mascots represent the blacktip sharks, a species of the shark that is found in the oceans of Indonesia, like Bali and Raja Ampat. They are an iconic species that represent the rich marine life of Indonesia and serve as a reminder of the need to protect and preserve our oceans for future generations. By using the blacktip sharks as the mascot, we will also raise awareness and promote the conservation efforts for this species."
ANOC Secretary General Gunilla Lindberg added:
"We are very happy to welcome Bli Suksma and Gek Suksma as our Games mascots. Their friendly nature and love for the ocean embody the spirit of Bali 2023. We are committed to ensuring that we have a minimal impact on the environment and where possible even leave it in better condition than we found it. We hope that their presence will bring joy to the athletes and fans but also generate better understanding about the role all of us can play in marine conservation."
ANOC is partnering with Marine Biodiversity Foundation (CMBF) a local coral conservation project in Bali to leave a lasting legacy in the Nusa Dua Beach, one of the two clusters of the Games. The partnership will last until 2026 and includes the planting and maintenance of a coral garden, with coral fragments being planted on behalf of each of the participating NOCs at Bali 2023.