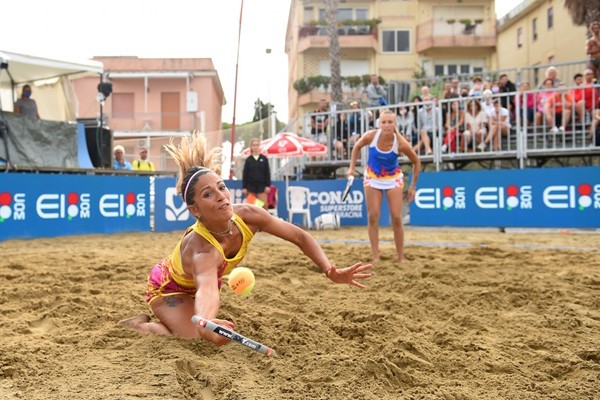 GASPARRI AND VALENTINI IN THE WOMEN'S AND BURMAKIN AND GIOVANNINI IN THE MEN'S ACCOMPLISH A LIFELONG DREAM AT THE ITF BEACH TENNIS WORLD CHAMPIONSHIPS
Terracina (Italy) staged the ITF Beach Tennis World Championships from 13 to 19 September. The sand of Levante Beach welcomed players from 22 nations to be crowned world champions. Alongside the professional event, matches in other five age categories were played – under 12, under 14, under 16, under 18 and Seniors. The organisers trialled innovations in these categories ensuring that spectators were kept entertained throughout all matches.
Women
It has been quite the week for Italy's Giulia Gasparri and Ninny Valentini, who entered the 2021 ITF Beach Tennis World Championships off the back of becoming European Champions, and just six days later, they have been crowned World Champions.
The pair had swept past all before them in Terracina, and just when it looked like they were on track to complete a routine victory in the final, Valentini leapt for a ball and, on landing, heard a worrying sound in her left knee.
Both players looked distraught at the thought of throwing in the towel – especially given they were already a setup and had control of the second – and after receiving treatment from the physio, Valentini battled on. Even with her limited mobility, she and world No. 1 Gasparri put the match to bed 6-2, 6-3.
"It was an incredible match," said Valentini, who won her first world title. "I was jumping, and I heard a crack in my knee, and I had a lot of pain. I was very worried about it because I thought the match was finished."
Gasparri added: "I was very worried because she is a very strong girl, and she never told me 'I can't play', so in my heart, I can't describe the emotion."
For Gasparri, the win – her fourth world title – is the most important of all because Valentini is not just her partner on the court.
"This victory is special for me because Ninny is my girlfriend," explained Gasparri. "So, for me, it is absolutely the most special victory in my life. I'm very, very happy."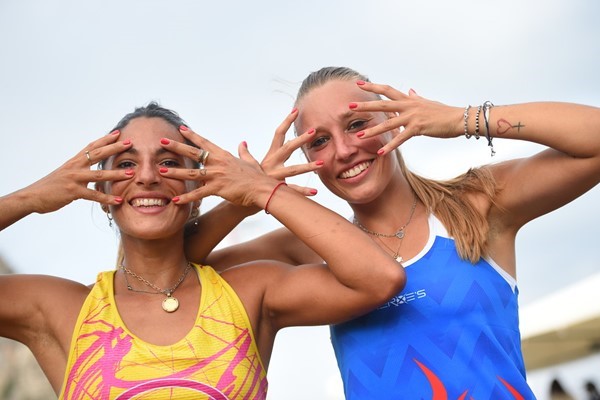 Men
Nikita Burmakin and Tommaso Giovannini defeated Doriano Beccaccioli and Mattia Spoto 6-2, 4-6, 10-7 to clinch the title at Levante beach.
In a match that ebbed and flowed like the sea alongside Rive Di Traiano beach, Russia's Burmakin and Italy's Giovannini took the opening set before their Italian opponents battled back in the second to set up a winner-takes-all super tiebreak.
And it was in the match tiebreak that Burmakin and Giovannini produced some of their best tennis. Beccaccioli and Spoto fought back from 7-3 down, winning four points in a row to level the score at 7-7. But Burmakin came up with a huge ace to move 8-7 up (after which he let out a rare display of emotion) before hitting a return winner to give him and his partner a match point.
When Spoto fired his serve wide of the mark, both players fell to their knees – Burmakin in fits of laughter; Giovannini was sobbing into the sand.
"I've played beach tennis since I was eight years old," said Giovannini. "I grew up on a beach tennis court thanks to the passion of my father. I have seen all tournaments since I was very young, dreaming of winning one day this tournament.
"We were so close, losing two other finals, but this year we won with our experience, with no fear, and I still don't believe [it]. I have no words. I am so happy. It was one of my biggest dreams of my sports life."
Burmakin added: "In my beach tennis career, I had won all the tournaments, all the championships, both for myself and my country, but I had never won this one. It was one step that I could not make. So, this was, for sure, the dream. The only thing that I did not achieve yet."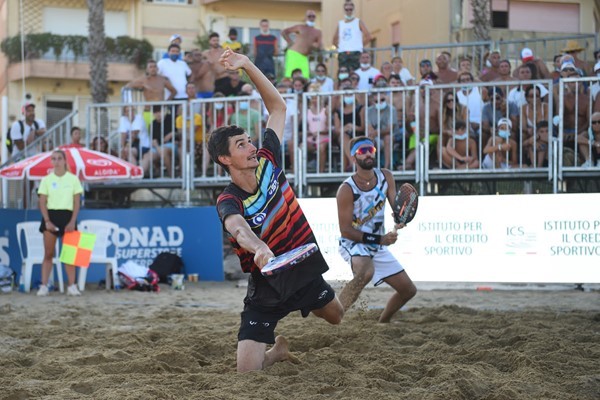 See the full results here.
The ITF Beach Tennis World Tour continues with plenty of fantastic action coming up with three more Sand Series events in Gran Canaria, Brasilia and Reunion and all eyes will be on the Beach Tennis World Cup in Rio next month.
Find out about upcoming Beach Tennis events at our Beach Sports calendar.
Source: www.itftennis.com/
Photo credits: Corinne Dubreuil