OLIVIER (FRA) AND OLASZ (HUN) WIN THE SECOND LEG OF THE FINA/CNSG MARATHON SWIM WORLD SERIES 2021 IN LAKE OHRID (MKD)
Fifty athletes (30 men and 20 women) gathered in North Macedonia for the second leg of the FINA/CNSG Marathon Swim World Series 2021. Marc-Antoine Olivier (FRA) and Anna Olasz (HUN) won the event held on Saturday, August 28. The French star swam and won the men's 10m km race in 1h54m54s60, while the Magyar ace triumphed in the women's event in a time of 2h04m26s40. For Olivier, this is the second win of the year, after his initial success in the first event of the series on March 13, 2021, in Doha (QAT).
In a very tight race, Niklas Frach from Germany managed to get the silver medal in 1h54m56s70, a mere 2.10 seconds behind Olivier, while Kiril Abrosimov (RUS) became the bronze medallist in 1h54m58s00.
Kristof Rasovszky (HUN), the runner-up at the Tokyo Olympics (and in the first series in Doha), entered fourth in North Macedonia, touching in 1h55m08s40. Olivier was sixth in the Japanese capital but had won silver at the 2019 FINA World Championships in Gwangju (KOR). For Frach, who is 23 years old, it is the best result at the international level.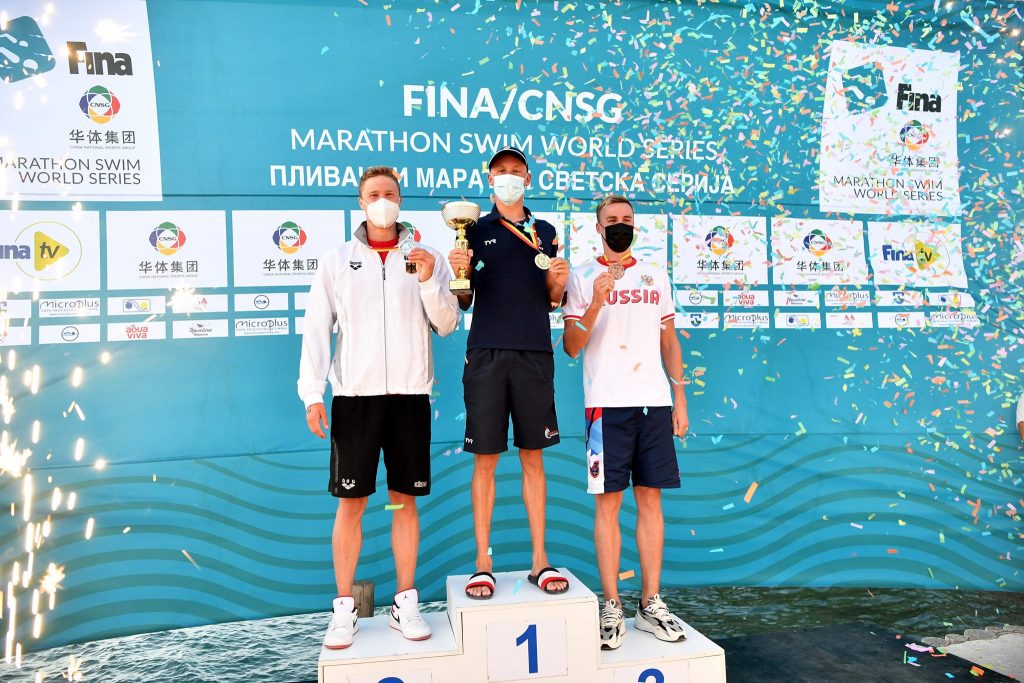 In the Women's race, the Hungarian Olasz was mainly challenged by Giulia Gabbrielleschi (ITA), silver medallist in 2h04m28s60, and by Caroline Jouisse (FRA), who finished third with a time of 2h04m31s30. Olasz had been first in the Olympic Qualifier event for the Tokyo Games but finished fourth at the Odaiba venue in the Japanese capital.
The World Series will now proceed in Nantou (TPE), Hong Kong (HKG) and Abu Dhabi (UAE).
Medallists in Ohrid (MKD):
MEN
1. Marc-Antoine Olivier (FRA), 1h54m54s60
2. Niklas Frach (GER), 1h54m56s70
3. Kiril Abrosimov (RUS), 1h54m58s00
WOMEN
1. Anna Olasz (HUN), 2h04m26s40
2. Giulia Gabbrielleschi (ITA), 2h04m28s60
3. Caroline Jouisse (FRA), 2h04m
See the full results here.
Find out about upcoming Open Water Swimming events at our Beach Sports calendar.
Source: www.fina.org
Photo credit: FINA