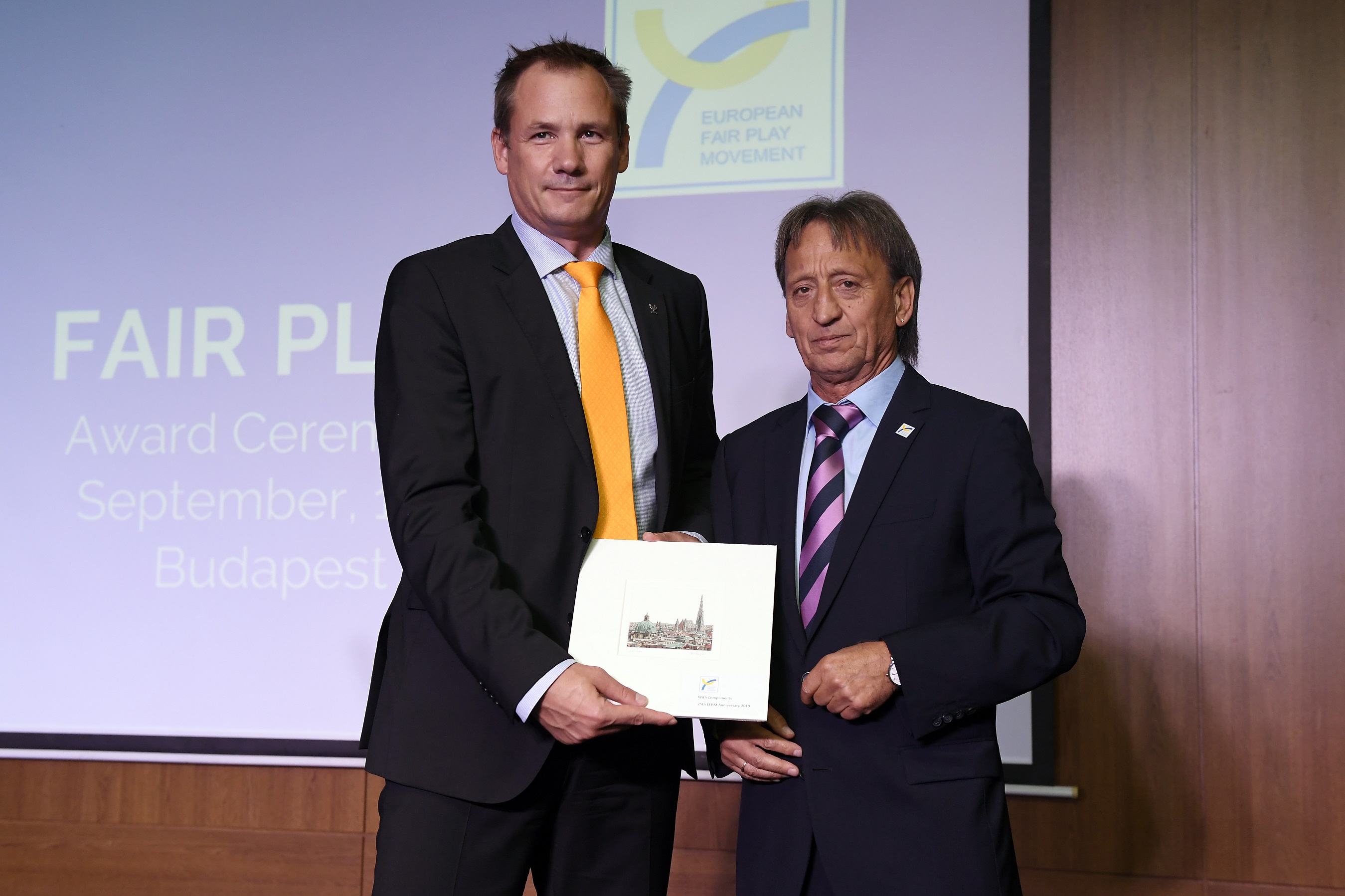 FAIR PLAY UNDER THE SPOTLIGHT IN BUDAPEST
The Olympic Family commemorated the 25th anniversary of the foundation of the European Fair Play Movement (EFPM). On this glorious occasion, Krisztián Kulcsár, President of the Hungarian Olympic Committee (HOC), on behalf the European Olympic Committees, awarded a plaque to Christian Hinterberger, President of the Movement.
The gala dinner was organized as part the "Fair Play Days" event series held between 12-13 September with the aim of celebrating the anniversary of the European Fair Play Movement. The event co-organized by the International Fair Play Committee also included seminars and this year's CIFP Award Ceremony.
The reception began with a short video address recounting the organisation's history and its core values. European Fair Play Movement President Christian Hinterberger stressed the importance of respect, solidarity and honesty in sport and in general.
Christian Hinterberger became President in 2012 and strong bonds have been created ever since. In 2013 the Headquarters of the Movement was opened in Vienna which is officially recognized and was given privileged status by Austria.
In his opening speech, EFPM President Christian Hinterberger welcomed everybody at the banquet. He greeted honorary guests including Hungarian Olympic Committee President Krisztián Kulcsár, International Fair Play Committee President Jenő Kamuti and European Paralympic Committee President Ratko Kovacic.
Hinterberger also elaborated that the EFPM was happy to celebrate the 25th anniversary of the movement in the Sport Capital of Europe in 2019, Budapest. He concluded by quoting Nelson Mandela who once said that "sport has the power to change the world" which is a great idea to follow.
President Kulcsár said it was a pleasure to be here representing the Hungarian Olympic Committee, but it was an even greater honour to represent the European Olympic Committees on behalf of President Janez Kocijančič.
The Hungarian sport leader then went on to say "I only have one message, a simple message. The Fair Play Movement is an integral party of the Olympic Movement without which it would not be the same. It has a special place in the heart of the Hungarian Olympic Committee, and I am happy to say it has a special place in the heart of the European Olympic Committees as well."
To commemorate the 25th anniversary, the HOC President presented an award to Christian Hinterberger who thanked Krisztián Kulcsár and gave a gift to him in return and reminded the audience of the similarities between Vienna and Budapest.