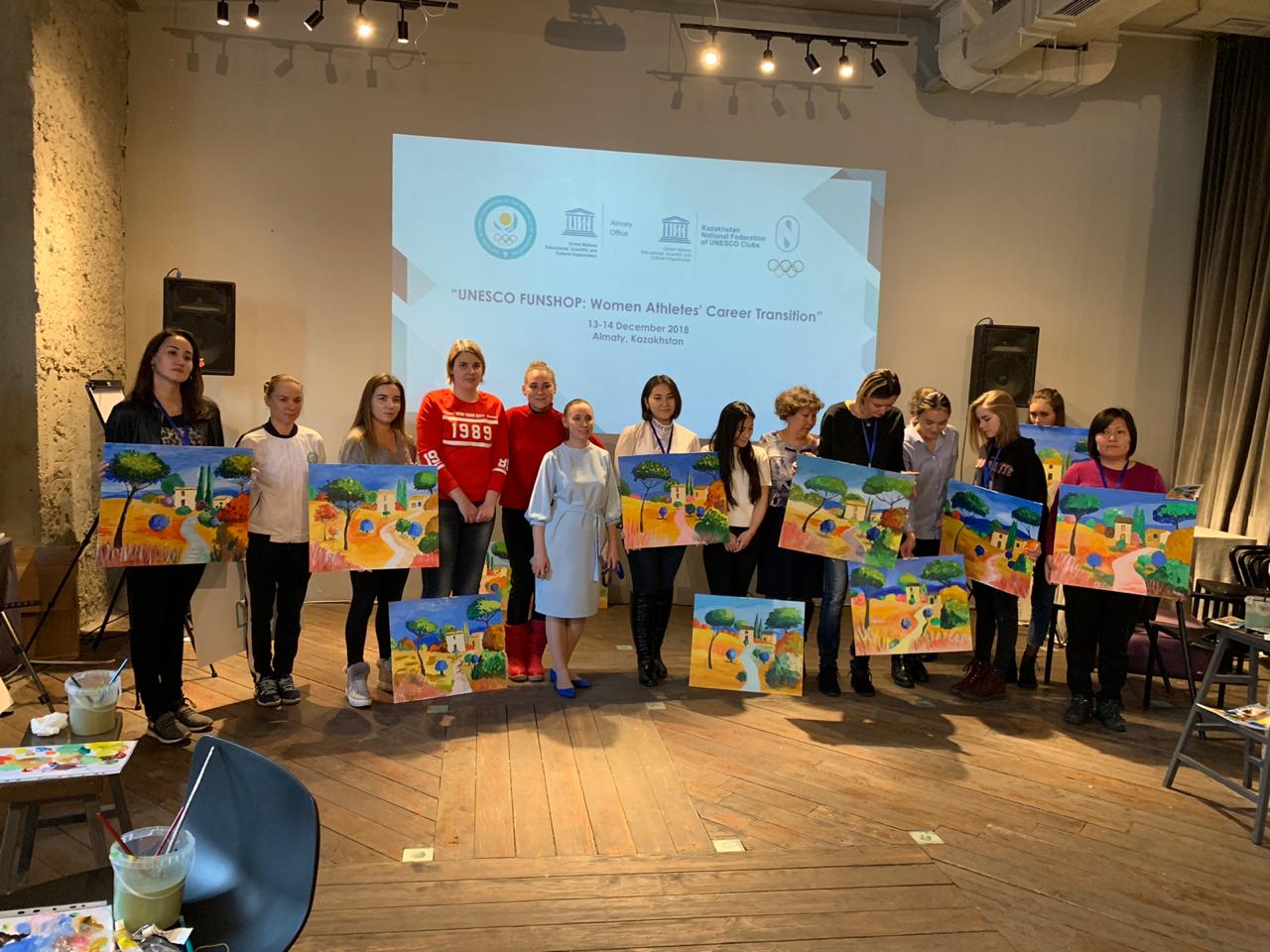 NOC KAZAKHSTAN AND UNESCO CONDUCTED TWO-DAY WORKSHOP FOR FEMALE ATHLETES
Kazakhstan female athletes were given the opportunity to learn more about development of professional skills after completing sports career. In the period from 13th to 14th of December NOC Kazakhstan in cooperation with UNESCO Almaty Cluster Office conducted training seminar with an informal working title – "Girls Power" Women Athletes' Career Transition Program". The program is intended for active female athletes and those who have already completed their sports career or preparing to change their social spheres.
This is the first project of its kind in Kazakhstan, which has already attracted interest of female athletes. The seminar had participants from different sports, including Dariga Shakim – 2016 Summer Olympic Games bronze medalist (Boxing), Zhanbota Aldabergenova – 2017 Winter Universiade winner and Zhibek Arapbayeva – 2011 Asian Winter Games and 2017 Winter Universiade winner (both in Aerial Skiing), Kristina Tynybaeva – Head of National Synchronized Swimming Team, Marina Pikalova – Handball Team Coach and many others. In total, more than 30 women who have connected their lives with sports were registered in two-day seminar.
Within the framework of the program, participants were given professional recommendations for the development of communication skills, self-presentation, career guidance, financial literacy and disclosure of their creative abilities through innovative approach. In addition to the theoretical part, athletes immediately tried to apply their knowledge in practice. Representatives of NOC Kazakhstan also shared about the possibilities of additional education for athletes in the framework of IOC Olympic Solidarity international programs.
"Currently, the International Sports Community attracts special attention to the issue of gender equality, development of athletes' capability after completion of their sports career, as well as giving them an assistance in this matter. NOC Kazakhstan supports all initiatives in this direction and our seminar is the first such project. We appreciate that UNESCO has supported us and we are confident that we will continue our active work to ensure that our athletes feel comfortable not only while performing in sports arena, but also after completing their professional career," said Alimzhan Akayev, Director of International Relations Department of NOC Kazakhstan.
As it was mentioned by the organizers, implementation of the project in this direction is very important for further activities. Social and professional adaptation of women athletes, as one of the unaffected areas, will be another indirect, but important direction of sports development in Kazakhstan. Possibly, active female athletes will become more attentive to their future and pre-plan own transition to another professional activity.