ANOC mourns loss of IOC Honorary Member Flor Isava Fonseca
ANOC is deeply saddened to learn that IOC Honorary Member Flor Isava Fonseca has passed away at the age of 99.
Isava Fonseca was one of the first two women elected as IOC Members in 1981 and became the first female member of the IOC Executive Board in 1990, serving until 1994. She was a member of the Venezuelan National Olympic Committee from 1964 to 1968. She competed at the 1956 Olympic Games as part of the Venezuelan Olympic equestrian team and later founded and served as President of the Venezuelan Equestrian Federation.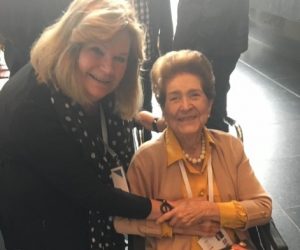 ANOC Secretary General Gunilla Lindberg and Flor Isava Fonseca during the 2017 IOC Session in Lima, Peru.
ANOC Secretary General Gunilla Lindberg said:
"Flor was an inspiration to me and so many throughout the Olympic Movement. She was my role model when I joined the IOC and I had the honour of working with her on the IOC Women and Sport Commission. She was a true pioneer for women in sport and played a significant role in advancing gender equality. She was highly respected throughout the NOC family and she will be greatly missed."
ANOC's thoughts are with Isava Fonseca's family and friends during this difficult time.
Feature image copyright: IOC