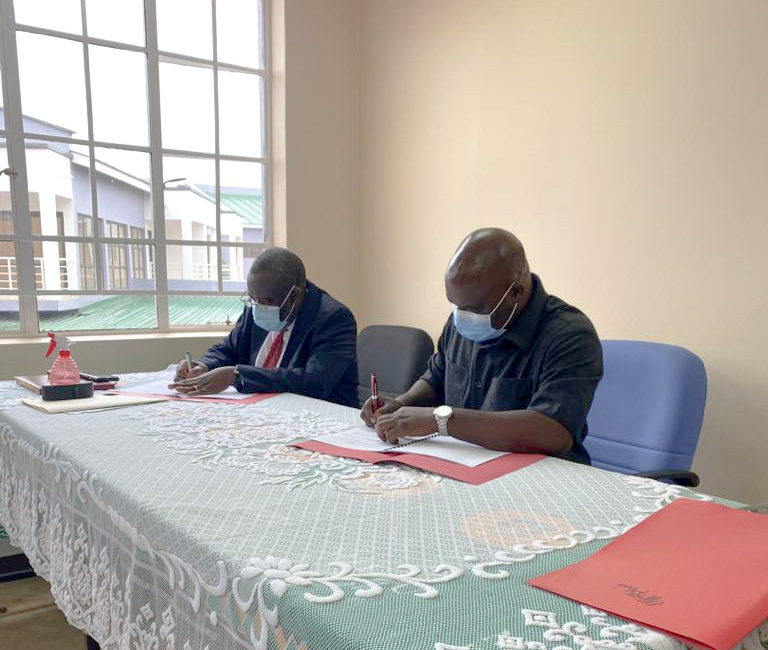 MALAWI OLYMPIC COMMITTEE PARTNERS WITH MZUZU UNIVERSITY
Malawi Olympic Committee has signed a Memorandum of Understanding (MoU) with Mzuzu University (Mzuni) for the enhancement of sports manager's skills.
The NOC President Jappie Mhango said the Country is stagnating in sports development due to poorly trained managers. Speaking during the signing ceremony of the MoU on 7th April 2021 at Mzuni's Dundudzu Campus, Mhango said they opted to partner with Mzuni because of its long-time interest in promoting sports.
"Currently, most of the people managing sports in the country are not specialized or were not properly trained in the management of various Games. These are people in different fields but found themselves managing sports. So, we want those ones to be given special training to achieve our desired goals."Mhango said.
Mzuni Vice-Chancellor John Kalenga-Saka said the University will introduce a Bachelor of Science in Sports Management Course which will start with at least 40 students. "We, as a university our mandate is to build national human capital in all sectors of the economy including various sporting activities. Our partnership with MOC is very strategic because they have that overall responsibility towards supporting the Government in ensuring the development of different sports disciplines.
"Through the Faculty of Tourism, Hospitality and Management, we have developed a programme in sports Management. This gives us the opportunity to support Malawi Sport so that individuals who are in the sport sector acquire the needed skills mix. First enrollment is due in June this year," Kalenga said.
The NOC General Secretary, and Mzuni 's Faculty of Tourism, Hospitality, and Management head Lameck Khonde attended the Ceremony.
Source: Malawi NOC