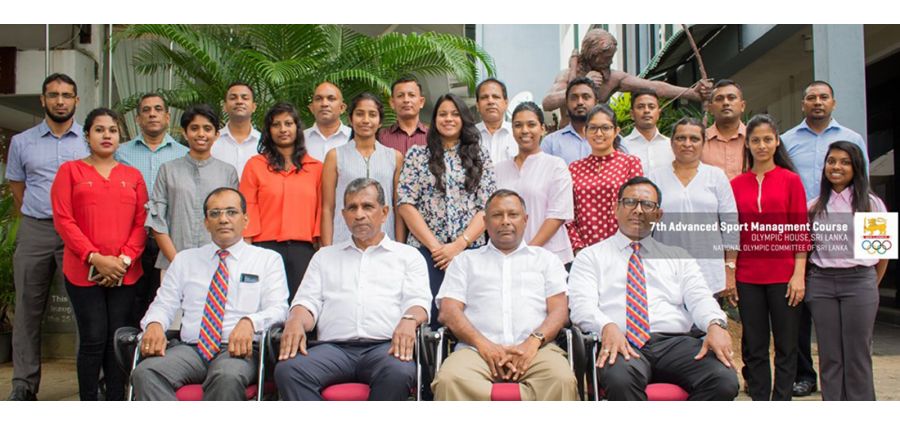 National Olympic Committee of Sri Lanka organises Advanced Sport Management Course
The 7th edition of the Olympic Solidarity Advanced Sport Management Course conducted by the National Olympic Committee of Sri Lanka started on August 17, 2019 at the Olympic House, Colombo.
For the first time, the Advanced Sport Management Course showcases the gender equality by an equal number of 10 each males and females among the participants. The twenty participants represented different sport administrative sectors such as national sports federations, Sri Lanka security forces, Schools, National Institute of Sport Sciences and Universities.
The course is designed for seven sessions and each session consists of two days. The first session began with the participants' registration. Following by this, a welcome remark was addressed by Mr. Suresh Subramaniam, the President of NOC Sri Lanka. The first edition of the course participant Wg Cdr. Chandana Liyanage, the Assistant Secretary of NOC Sri Lanka shared his experience of the Course.
The participants were issued with the manual 'Managing Olympic Sport Organisation' (MOSO) for the course by the Olympic Solidarity. In the second part of the first day, the course introduction included course structure and administration process, and tools of the Course was explained by Professor. B.L.H the academic director of the National Olympic Committee of Sri Lanka. Further, he highlighted the contents of the MOSO and its objectives and learning outcomes.
On the second day, the first chapter of the manual 'Organising an Olympic Sport Organisation' was taught by Professor B.L.H. Perera once again.
The second session of the Course will be held in October 2019.