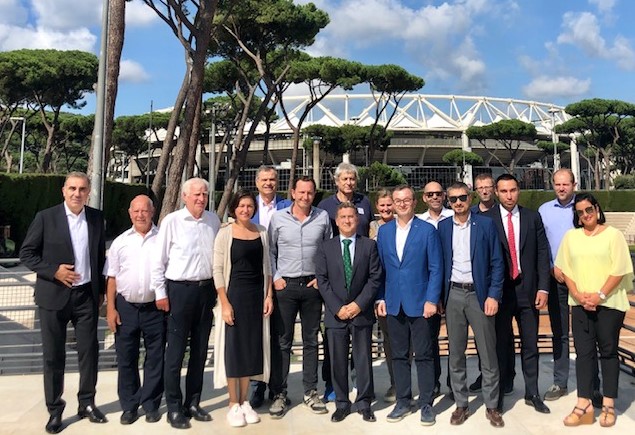 EYOF COMMISSION MEETS IN ROME
The European Youth Olympic Festival (EYOF) Commission held its annual meeting in Rome, Italy on 30 September.
EOC Vice President Niels Nygaard attended the meeting to hear the recommendations the Commission wished to make to the EOC Executive Committee.
Chaired by Portuguese José Manuel Araújo, the group tackled a series of issues related to the biggest multi-sport event for the youth of Europe.
The Members discussed the general organisation of the EYOF and examined possible ways to improve the event. In particular, they gave some recommendations on how to make the EYOF more valuable for the NOCs and more attractive for hosting cities.
The gathering began with a debriefing on the previous EYOF editions: Sarajevo & East Sarajevo 2019 (Winter) and Baku 2019 (Summer).
Discussions then focused on the future EYOFs: the Winter EYOF in Vuokatti, Finland, in February 2021 and the Summer EYOF in Banská Bystrica, Slovakia, in 2021.
EOC Sports Director Peter Brull gave an overview on the work he is currently doing with the Federations and the IOC in order to enhance the EYOF sports programme.
The Commission also reviewed the EYOF charter and did a thorough analysis of the sport programme, with the aim of making it more dynamic and youthful.
"It was a very fruitful meeting and we made a lot of proposals, in particular with reference to the Charter," Araujo said after the meeting. "We are trying to align the EYOF with the European Games and the Youth Olympic Games, so raising the level of our product."
The EYOF 2023 in Friuli Venezia Giulia, Italy (Winter), and Koper, Slovenia (Summer) and the applicants for the EYOFs 2025 were also on the agenda.