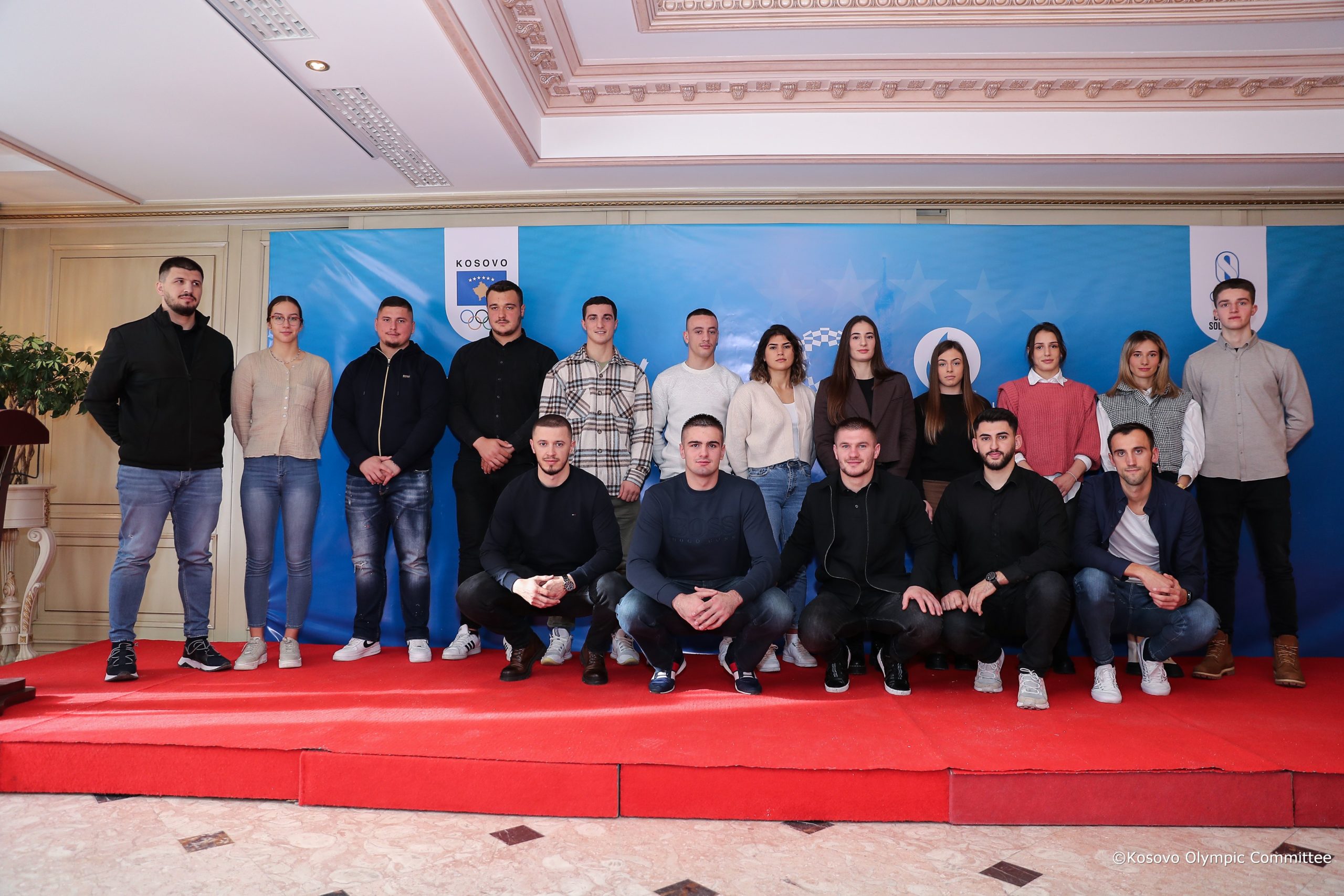 NOC Kosovo awards Tokyo 2020 Olympics Prizes and signs Paris 2024 Olympic Scholarships
On the occasion of the 7th anniversary of the accession of the Kosovo Olympic Committee to the International Olympic Committee, NOC Kosovo hosted a ceremony to award prizes to the athletes who participated in the Tokyo 2020, to distribute the series of IOC pins, and to sign the Olympic Scholarships for the Paris 2024.
For the success achieved at Tokyo 2020, the NOC awarded 10'000 Euro to each of the Olympic champions, Nora Gjakova and Distria Krasniqi, 5'000 Euro to their coaches, Driton Kuka, and 500 Euro to each of the participating athletes.
President Krasniqi, in congratulating the 7th anniversary, stressed that IOC accession paved the way for the athletes to bring three Olympic gold medals to the country.
"With the closing of Tokyo 2020, today we are paving the way to Paris 2024, by signing stipends for 22 athletes selected by the Athletes Commission, a list that may change depending on their performance, which will be constantly monitored by this Commission", said President Krasniqi.
7'500 USD per month is the amount allocated by the Olympic Solidarity for stipend holders, while with the decision of the Executive Board, the NOC has added 1'550 Euro per month, providing for a total of 46'400 Euro over 2 and a half years.
22 athletes will be supported with monthly stipends of 250 to 1'000 USD. 1'000 USD go to each of the Olympic champions, Krasniqi and Gjakova.
In his speech, Minister Çeku spoke of the importance of the accession of NOC Kosovo and sports federations in the international arena, while focusing on the success achieved at Tokyo 2020 and the NOC's support towards Paris 2024.
"It is a great pleasure to see athletes who competed in Tokyo on the list of scholarships. A long way ahead awaits you towards Paris. I wish success in the preparatory process, to you and all athletes who aim to represent Kosovo in the international arena. I am very hopeful that we will go to Paris with more athletes, more Olympic Qualifying Standards, and we'll return with more medals", Minister Çeku said.
For more information, click here